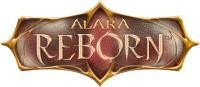 Am Samstag habe ich bei einem Alara Reborn Prerelease Turnier mitgemacht aber wer meinen Twitter verfolgt oder auf Facebook mitliest weis das ja schon.
Irgendwie war letzte Woche nur bedingt Zeit sich die Karten schonmal vorab im Detail anschauen zu können und so habe ich meinen Pool nach dem ersten Eindruck zusammengestellt. Der [card]Gloryscale Viashino[/card] schien mir in diesem limitierten Format mit vielen mehrfarbigen Karten sehr stark zu sein und zusammen mit dem [card]Behemoth Sledge[/card] habe ich hier einige gute Möglichkeiten gesehen. Also habe ich mir im Prinzip ein Naya Deck gebaut allerdings waren [card]Bituminous Blast[/card] und [card]Breath of Malfegor[/card] zu verführerisch als das ich nicht noch 2 Swamps mit ins Deck gepackt hätte.
Alles in allem bin ich dann mit 2:3 Matches als 16. aus dem Turnier gegangen was sicher verbesserungswürdig ist, aber auch nicht ganz so schlecht wie befürchtet.
Im kompletten Artikel gibts dann mein vollständiges Deck sowie mein Pool.
Hier das Deck das aus fast meinen kompletten Naya Karten bestand. Wichtig neben den oben genannten sind natürlich noch [card]Dauntless Escort[/card] sowie [card]Qasali Pridemage[/card]. Cascade war immer wieder witzig zu nutzen und ein Deck das diese Funktion extensive nutzt kann ich mir gut vorstellen. Mal sehen, wenn ich noch ein paar mehr Karten habe bastle ich mir vielleicht mal eins.
[deck]
[Kreaturen]
Sunseed Nurturer
Yoked Plowbeast
Bloodthorn Taunter
Incurable Ogre
Druid of the Anima
Mosstodon
Wild Nacatl
Gorger Wurm
Rhox Brute
Dauntless Escort
Qasali Pridemage
Sigiled Behemoth
Gloryscale Viashino
Cerodon Yearling
Naya Hushblade
[/Kreaturen]
[Toolbox]
Dragon Fodder
Magma Spray
Naturalize
Bituminous Blast
Breath of Malfegor
Violent Outburst
Captured Sunlight
[/Toolbox]
[Artefakte]
Behemoth Sledge
Obelisk of Bant
Obelisk of Naya
Wildfield Borderpost
[/Artefakte]
[Land]
Jungle Shrine
4 Plains
2 Swamp
4 Mountain
5 Forest
[/Land][/deck]
Auch noch auf Blau zu gehen und das nur für das sehr gute [card]Finest Hour[/card] war mir aber doch zu risikoreich und für den [card]Cunning Lethemancer[/card] hatte ich selbst keine Karten die mir das Ziehen erlauben.
[cardlist]Dragon Fodder
Magma Spray
Naturalize
Obelisk of Bant
Obelisk of Naya
Bituminous Blast
Breath of Malfegor
Violent Outburst
Behemoth Sledge
Captured Sunlight
Wildfield Borderpost
Excommunicate
Gustrider Exuberant
Knight of the Skyward Eye
Sanctum Gargoyle
Souls Grace
Call to Heel
Cloudheath Drake
Coma Veil
Couriers Capsule
Resounding Wave
Spell Snip
Banewasp Affliction
Cunning Lethemancer
Infest
Resounding Scream
Skeletal Kathari
Viscera Dragger
Rockslide Elemental
Scourge Devil
Thorn-Thrash Viashino
Viashino Skeleton
Keeper of Progenitus
Blightning
Clarion Ultimatum
Deft Duelist
Esper Charm
Goblin Deathraiders
Grixis Charm
Thoughtcutter Agent
Tidehollow Sculler
Windwright Mage
Obelisk of Grixis
Fieldmist Borderpost
Stormcallers Boon
Unbender Tine
Brainbite
Demonic Dread
Finest Hour
Flurry of Wings
Sangrite Backlash
Jungle Shrine
Sunseed Nurturer
Yoked Plowbeast
Bloodthorn Taunter
Incurable Ogre
Druid of the Anima
Mosstodon
Wild Nacatl
Gorger Wurm
Rhox Brute
Dauntless Escort
Qasali Pridemage
Sigiled Behemoth
Gloryscale Viashino
Cerodon Yearling
Naya Hushblade
Aven Mimeomancer
Ethersworn Shieldmage
Sanctum Plowbeast
Architects of Will
Illusory Demon
Jhessian Zombies
Vedalken Ghoul
Kathari Bomber
Sanity Gnawers
Singe-Mind Ogre
Vithian Renegades
Vectis Dominator
Putrid Leech
Winged Coatl
Grixis Sojourners
Arsenal Thresher
Esper Stormblade
Jund Hackblade
Bant Sureblade
Messenger Falcons[/cardlist]