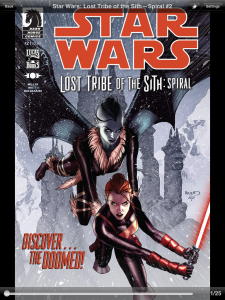 Autor: John Jackson Miller
Zeichnung: Andrea Mutti
Tusche: Pierluigi Baldassini
Farbe: Michael Atiyeh

Alles was ich glaubte über den Lost Tribe zu wissen wird hier auf den Kopf gestellt. Ich weiss nicht ob es ein Vorteil ist das ich die Fate of the Jedi Romane noch nicht gelesen habe, jedenfalls kommt für mich hier einiges sehr überraschend. Entwicklung der Charaktere, Aufbau der Bedrohung alles stimmt einfach und ich bin gespannt wie es weiter geht. Auch die neue Philosophie wie man mit der Macht umgeht ist an sich durchaus logisch.
Auch das Artwork ist Klasse, eine tolle Mischung aus Fantasy und Sci-Fi wie sie für Star Wars so passend ist.