Das Drama wird aufgeklärt.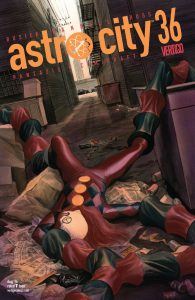 Autor: Kurt Busiek
Zeichner: Ron Randall
Colorist: Peter Pantazis
Letterer: Comicraft
Kaufen: ComiXology
Bewertung: 4/5

Die Story heißt "The other side of the story" und genau das bekommen wir geboten, die andere Seite der Geschichte. Was passiert wenn eine Entscheidung anders getroffen wird? Was wenn man als Kind eines Schurken aufwächst? Die durchaus interessante Betrachtungsweise von Drama Queen wird ergänzt von Jack-in-the-Boxes Suche nach dem Zusammenhang.
Wie immer kann Busiek hier glaubhafte Charaktere präsentieren die eben nicht einem Schema F folgen. Der Böse ist nicht einfach Böse sondern hat eine glaubhafte Motivation für das was er tut. Zudem sind die die Kleinigkeiten im Hintergrund die die Welt glaubhaft machen.
Ron Randalls Zeichnungen sind so nahe an dem was Brant Anderson normalerweise abliefert das auf den ersten Blick kein Unterschied zu erkennen ist. Das sorgt für ein großes Maß an Kontinuität was für diese Serie sehr passend ist.