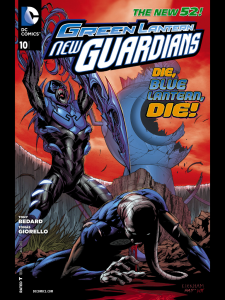 Autor: Tony Bedard
Zeichnung: Tomas Giorello
Tusche: David Sharpe
Farbe: Nathan Eyring

Der Angriff auf Odym geht in die nächste Runde und es sieht rechts hoffnungslos für die blauen Lanternen der Hoffnung aus. Doch dann kommt Kyle und seine Regenbogentruppe. Eine gehörige Portion Action und das hinarbeiten auf einen Showdown der durch die Ankündigung von "Rise of the third Army" http://www.newsarama.com/comics/green-lantern-rise-of-third-army.html nochmal interessanter wird.
Zeichnungen sind gut wie immer, solide, wenn auch nicht herausragende Comic-Action.