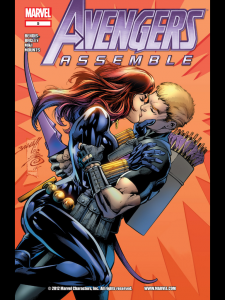 Autor: Brian Michael Bendis
Zeichnung: Mark Bagley
Tusche:Danny Miki
Farbe: Paul Mounts

Die Guardians of the Galaxies kommen passend zur Ankündigung auf der San Diego Comic Con in Avengers vor und irgendwie hat das mein Interesse geweckt. Die Charaktere waren mir grundsätzlich bekannt aber nicht im Detail und das Auftreten hier hat mich zwiespältig zurück gelassen. Zum Einen sind die alle recht cool (natürlich besonder der Waschbär), zum Anderen ist die Geringschätzung von intelligenten Leben doch erschreckend. Wie immer bei Bendis kommt der Humor nicht zu kurz und das Cover zeigt ja auch schon das Hawkeye irgendwie immer die Mädels abbekommt.
Täusche ich mich oder wird Bagley ein wenig besser und vor allem konsistenter? Mir hat das Heft durchweg gut gefallen was das Artwork betrifft.