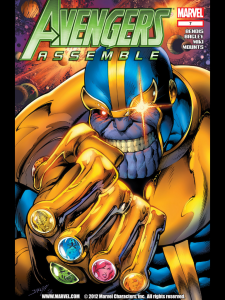 Autor: Brian Michael Bendis
Zeichnung: Mark Bagley
Tusche: Danny Miki
Farbe: Paul Mounts

Thanos dreht so richtig auf (und ab) und die Avengers müssen sich erst mal aus einer sehr misslichen Lage befreien in die Sie durch ein kleines Missgeschick gekommen sind. Richtig aufdrehen können auch die Guardians of the Galaxy deren Erfahrung den Avengers mal wieder das Leben rettet, aber auch Thor und Hulk leisten ihren Beitrag. Wie immer nach Bendis Art witzig geschrieben mit vielen dummen Sprüchen.
Bagley liefert seine übliche Arbeit ab, in meinen Augen nicht wirklich schlecht, aber auch kein Höhepunkt zeichnerischen Schaffens.