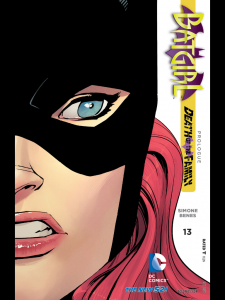 Autor: Gail Simone
Zeichnung: Ed Benes
Farbe: Ulises Arreola

Der Endkampf gegen Knightfall ist so brutal wie nervenaufreibend, da Gail Simone kein übermächtige Batgirl schreibt, sondern jemanden der trotz Niederlagen, Schmerzen und der Tatsache das sie fast besiegt ist weiterkämpft weil sie muss. Alle interessant in Szene gesetzt aber mit dem klaren Fokus auf die Charaktere. Der Teil über "Death of the Family" kommt aber erst ganz zum Schluss zum Tragen obowhl es groß auf dem Cover steht.
Benes hat seinen Stil nochmal verfeinert. Ja es gibt noch die sexy Posen der weiblichen Helden, aber es ist nicht mehr so vorherrschend wie noch bei der alten Birds of Prey Serie. Sieht man mal von einer kurzen Szene vor dem Spiegel ab sind die Mädels auch alle recht züchtig bekleidet.