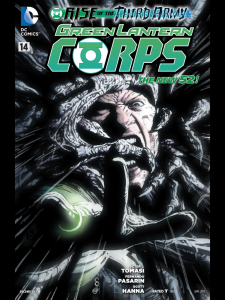 Autor: Peter J. Tomasi
Zeichnung: Fernando Pasarin
Tusche: Scott Hanna
Farbe: Gabe Eltaeb

Im Zuge von "Rise of the Third Army" geht es nun Guy an den Kragen, aber so langsam kommen mehr Green Lantern dahinter das denn nun irgendwas faul ist auf Oa. Tomasi baut nicht nur mehr Spannung auf sondern Guy auch langsam um. Von dem Aufschneider zu dem "harten Hund", der zwar ne große Klappe hat aber das auch zu Recht. Das Misstrauen bei den Green Lanterns, insbesondere Kilowog und Salaak machen hier eine gute Figur. Zudem sehen wir John Steward der auf der Suche nach den Überresten von Mogo ist. Ich gehe einfach mal davon aus das dies noch SEHR wichtig werden wird, da Mogo immer sowas wie das Herz des Corps war.
Zu Pasarin fällt mir nichts mehr weiter ein als genial. Er ist nicht mehr aus dem Green Lantern Universum weg zu denken. Auch hier sind es gerade Salaak und Kilowog die er super umgesetzt hat.