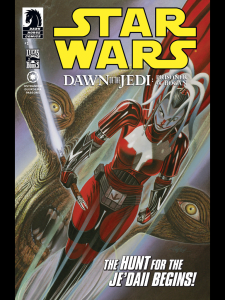 Autor: John Ostrander
Zeichnung: Jan Duursema
Tusche: Dan Parsons
Farbe: Wes Dzioba

Endlich geht es weiter mit den Anfängen der Jedi. Zu Zeiten wo sie sich noch Je'daii nannten und um eine Balance zwischen Dunkler und Heller Seite bemüht waren. Man sieht ein wenig mehr von Tython und es taucht sogar ein Charakter auf der in "The Old Republik" erwähnt wird. Diese frühe Zeit im Star Wars Universum dürfte wohl von neuen Filmen am unberührtesten bleiben, und wie schon bei den Legacy Comics (die wohl schnell in der Versenkung verschwinden werden) haben Ostrander / Duursema es geschafft Star Wars fast neu zu erfinden. Die Ideen sind zwar alle nicht neu, so wurden die Rakata stammen ja aus Star Wars: Knights of the Old Republik aber dir Nutzung hier und das Eingehen auf die Lebensbedingungen unter ihrer Herrschaft werden gut dargestellt.
Duursemas Zeichnungen sind wie immer genial. Sie sollte jedes Star Wars Comic zeichnen! Gerade wo es drum geht das Xesh auf seinen Mitgefangenen trifft und es um Machtnutzung und Emotionen geht wird offensichtlich wie genial ihre Zeichnungen sind.