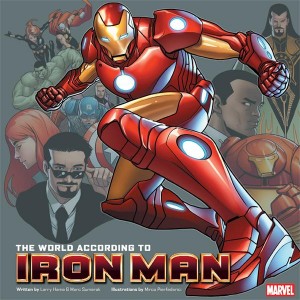 The World According to Iron Man ist so aufgemacht wie eine Publikation für Fans von Tony Stark innerhalb des Marvel Universums. Sämtliche Texte sind aus Sicht von Tony geschrieben und das Buch ist gefüllt mit allerlei Gimmicks, angefangen von einer Visitenkarte von Tony bis hin zu einem Pop-Out von Iron Man im Flug. Zeitlich ist das Buch kurz vor der Superior Iron Man Serie angesiedelt, weil diese Änderung eben noch nicht Inhalt ist.
Grundsätzlich ist das Buch mit vielen der oben genannten Gimmicks (Zertifikat vom MIT, Einladung zur Silvesterfeier der Avengers u.s.w.) durchaus eine witzige Idee. Auch die Texte aus Tonys Sicht lesen sich stimmig und sind unterhaltsam.
Die Zeichnungen sind okay, aber auch nicht mehr, wie man schon am Cover sehen kann. Irgendwie fehlt die Tiefe und auch der Wiedererkennungswert einiger Personen lässt zu wünschen übrig. Die eher technischen Aspekte sind okay aber auch nicht mehr.
Das Buch richtet sich wahrscheinlich auch eher an eine Altersgruppe zwischen 14-18, für die das was hier vermittelt wird Neuland ist, vielleicht weil sie nur die Filme kennen. Das macht auch daher Sinn weil gerade die Infos die in den Filmen anders sind hier näher beleuchtet werden.
Mein größtes Problem sind jedoch die teilweise falschen Informationen bzw. Unstimmigkeiten. Warum benutzt Tony einen Ferrari wenn seine alte Firma "Resilient" einen eigenen Wagen verkauft? Warum ist die Rede von Stark Industries wenn zu dem Zeitpunkt wo das Buch angesiedelt ist es diese Firma gar nicht gibt? Warum hat die Firma keine echten Logos sondern nur einen Schriftzug?
Ein eingefleischter Iron Man Fan wird sicher seine Freude an dem Buch haben (wenn er über die Unstimmigkeiten hinweg sehen kann) alle anderen sollen einen großen Bogen darum machen.