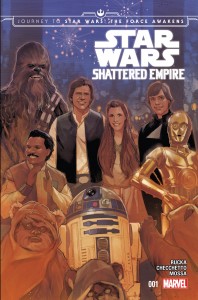 So langsam kommen die ersten Geschichten raus die zwischen "Return of the Jedi" und "The Force Awakens" spielen, das ganze nenne sich dann "Journey to Star Wars: The Force Awakens" und dieses Comic ist ein Teil davon. In 4 teilen wird vom Kampf der Rebellen bzw. jetzt ja der neuen Republik gegen die Reste des Imperiums erzählt und im Mittelpunkt stehen die A-Wing Pilotin Shara Bey und ihr Man Kes Dameron. Wem es bei dem Namen dämmert (höhö) , ja die beiden haben einen Sohn namens Poe. Und so wird einer der Grundsteine für den neuen Film gelegt.
Die Story an sich ist solide. Kein wirklicher Höhepunkt aber sicher auch nicht schlecht. Natürlich kommen auch die "Helden" der Rebellion vor die alle den einen oder anderen Auftrag für oder mit unserem Paar haben, aber sie stehen nicht im Mittelpunkt, sondern eben "normale" Soldaten der Rebellen. Greg Rucka zeigt hier auch sein Faible für eher Spionage Themen und weniger die offene Kriegsführung.
Das Artwork von Marco Checchetto ist unglaublich detailreich. Nicht nur das die Raumschiffe bis hin zu kleinsten Verstrebungen wirklich stimmig sind, auch Charaktere und Orte sind immer sofort wieder zu erkennen und das ohne dan typischen Abpauslook z.B. eines Greg Land zu haben.
Trotz allem bin ich ein wenig enttäuscht, da nicht wirklich was passiert. Hier bin ich natürlich von den umfangreichen Änderungen die das EU gebracht hatte verwöhnt und muss mich auch erst an die neue Situation gewöhnen, denke aber mal das dies nach dem 17. Dezember anders sein wird.