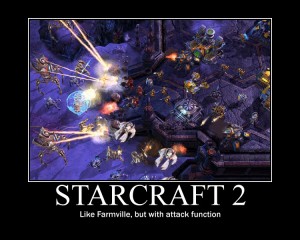 Ich bin ja sowieso ein Fan der Veralberung von Motivationspostern, aber das hier schiesst im Moment den Vogel ab.
Da die GamesCom dieses Jahr in Köln war (Ja, die in Leipzig hiess anders) musste ich da einfach hin. Nur ne Stunde mit dem Auto war einfach zu verführerisch. Alles in Allem hatte ich das Gefühl das dieses Jahr nicht ganz so viel los war, was aber auch daran gelegen haben kann, dass ich am Donnerstag da war und nicht am Wochenende.
Die letzten Einträge hier haben schon einige Impressionen gezeigt es folgen noch einige Bilder in besserer Auflösung sowie Artikel über die Spiele die ich mir genauer angeschaut habe. Zum Einen ist dies DC Universe Online, welches ich aber auf meiner eigenen Fanseite (www.dcu-online.de) näher beleuchten werde, zum Anderen Aion sowie natürlich die neue Age of Conan Erweiterung "Rise of the Godslayer".
Mehr im vollständigen Artikel.