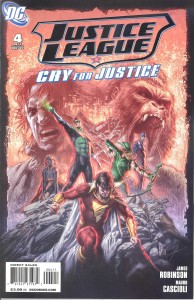 So, nach langer Zeit mal wieder ein Eintrag. Diesmal die war die Lieferung vom T3 leider etwas mickrig, da selbst in zwei Wochen nur 6 Hefte zusammen gekommen sind. Genau waren das:
DARK REIGN: THE HOOD # 5
IRON MAN & THE ARMOR WARS # 3
BATMAN AND ROBIN #5
GREEN LANTERN #46
JUSTICE LEAGUE: CRY FOR JUSTICE #4
JUSTICE SOCIETY OF AMERICA #31
Wie immer mehr im vollständigen Artikel.
DARK REIGN: THE HOOD # 5
Der Abschluss um Parker Robins und seine Bande enthält keine wirklichen Überraschungen, da man die Richtung ja schon aus den aktuellen Geschehnissen in New Avengers erahnen konnte. Auch die Zeichnungen sind eher untere Norm und so bin ich insgesamt von der Serie doch enttäuscht. Ich hätte mir mehr Tiefgang erwartet und das man auf den Character von Parker näher eingeht, das ist aber zum Ende der Miniserie etwas zu kurz gekommen.
5/10
IRON MAN & THE ARMOR WARS # 3
Man wirft fleisig mit Marvel Characteren um sich und hier taucht jetzt Omega Red auf, der eigentlich ein Wolverine Gegner ist. Das ist zwar alles nett zu lesen aber man merkt doch, dass es für ein eher jüngeres Publikum gemacht ist.
6/10
BATMAN AND ROBIN #5
Morrison, Morrison, Morrison. Ich weis einfach nicht was ich von dem Mann halten soll. Dieses Heft war irgendwie einfach nur durchschnittlich und gewöhnlich. Jason Todd ist also Red Hood und möchte nun das die Bestrafung dem Verbrechen angapasst wird. Das ist nun wirklich nichts Neues und weder inovativ noch sonderlich interessant. Der aktuell einzige interessante Handlungsstrag ist der mit dem Schriftsteller aus England und nach dem Cover einer der zukünftigen Ausgaben zu urteilen wird es auch da weitergehen. Also erstmal dabei bleiben.
7/10
GREEN LANTERN #46
Blackest Night ist in vollem Gange und Indigo 1 sammelt mal von jedem Corps ein Mitglied. Man erfährt mehr über die Black Lanterns und ich habe mal die starke Vermutung das dieses Heft sehr wichtig für das generelle Verständnis von Blackest Night ist. So langsam wird eine kleine aber feine Truppe gegen die Black Lanterns aufgestellt und es geht auch zwischen Sinestro, Hal und Carol so richtig zur Sache.
8/10
JUSTICE LEAGUE: CRY FOR JUSTICE #4
Die Cry for Justice Miniserie macht wirklich Lust auf mehr und glücklicherweise wird James Robinson ja ab der nächsten Ausgabe auch die normale JLA schreiben. Die moralischen Bedenken die nun von einigen Leuten kommen und die Überlagung was den nun Justice (Gerechtigkeit) ist sind sehr schön dargelegt. Die Zeichnungen sind wie immer erstklassig und dies ist aktuell einer der besten Serien.
9/10
JUSTICE SOCIETY OF AMERICA #31
Von diesem Heft war ich ein wenig enttäuscht. Ja, das Geheimniss um King Chimera ist noch ein halbwegs interessanter Teil der Geschichte und auch die Verwendung von Kent V. Nelson als Dr. Fate war nicht wirklich schlecht. Ich hoffe aber mal das da noch mehr kommt, aktuell fehlt da irgendwas.
7/10