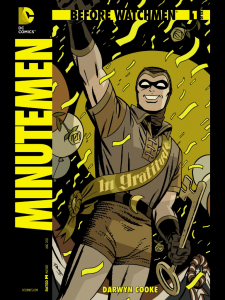 Autor: Darwyn Cooke
Zeichnung: Darwyn Cooke
Farben: Dave Steward

Before Watchmen startet mit Darwyn Cookes Minutemen und das ist ein furioser Einstieg. Cooke nimmt die Auszüge aus "Under the Hood" und transformiert sie in ein interessantes und stimmiges Comic mit einem leichten Unterton an Metakritik. Gerade der Einstieg arbeitet stark mit einem Symbolismus der sowohl eine Homage an Watchmen selbst ist, als auch eine Kritik an der Kontroverse die sich um Before Watchmen dreht. Cookes Stil passt einfach zu gut zu der Geschichte als das man dieses Comic vorverurteilen sollte. Er spielt mit den Panels und den Farben und, was wohl am wichtigsten ist, er versucht nicht Moore zu kopieren oder an ihn anzuknüpfen, sondern erzählt eine spannende und nachvollziehbare Geschichte in der Welt der Watchmen in seinem ihm eigenen Stil.
Interessant ist zudem das er kleine Episoden zwischen die Zeilen von Watchmen baut und das ohne einen echten Bruch zu erzeugen.
Die Geschichte Curse of the Crimson Corsair von Len Wein und John Higgins ist ne nette Dreingabe, aber mit nur zwei Seiten kann man bisher primär das Artwork loben.