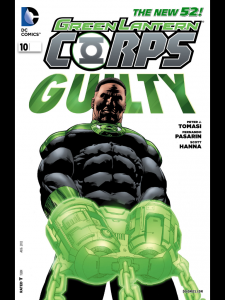 Autor: Peter J. Tomasi
Zeichnung: Fernando Pasarin
Tusche: Scott Hanna
Farbe: Gabe Eltaeb

John Steward wird für schuldig gesprochen und nun kommt was kommen muss, die Green Lanterns müssen sich entscheiden wo sie stehen. Das dies alles in die Hände der Guardians of the Universe spielt die ihren eigenen Plan verfolgen mag so aussehen, aber hier scheint sich auch noch eine neue Wendung aufzubauen. Spannend, da tatsächlich was passiert was man so nicht erwartet hat und wie immer mit tollem Artwork von Pasarin.