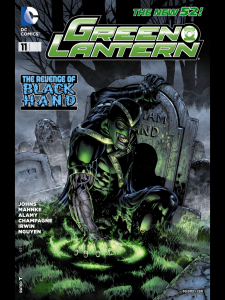 Autor: Geoff Johns
Zeichnung: Doug Mahnke
Tusche: Christian Alamy
Farbe: Alex Sinclair

Nachdem das Geheimnis des Indigo Tribe gelüftet wurde und Sinestro wieder er selbst ist können er und Hal sich nun einem neuen Problem widmen. Black Hand ist verschwunden und da das mit dem Tod bei ihm so ne Sache ist befürchten die beiden eine zweite "Blackest Night". Auch hier wird wieder das kommende Event "Rise of the Third Army" vorbereitet, jedoch nicht so offensichtlich wie in der Schwesterserie Green Lantern Corpse und vor allem mit einer zusätzlichen Story die einen früheren Handlungsstrang aufgreift und sehr spannend ist.
Wir haben sowohl "grünen" Humor (Hal hat einige gute Sprüche) als auch vor allem schwarzen, mit dem was Black Hand so treibt.
Doug Mahnke wird in meinen Augen immer besser, oder ich gewöhnte mich an seinen Stil, mir hat das alles sehr gut gefallen, besonders der deutliche Unterschied zwischen den Szenen mit Hal und Sinestro und denen mit Black Hand.