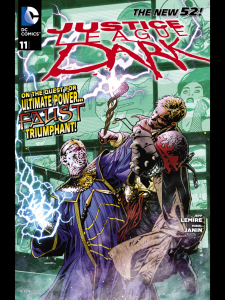 Autor: Jeff Lemire
Zeichnung: Mikel Janin
Farbe: Ulises Arreola, Kyle Ritter

Pläne in Plänen, Tricks über Tricks, und jeder versucht den anderen auszumanöverieren. Viele Kämpfe aber sehr gut inszeniert und vor allem wird während der Kämpfe die Handlung wirklich weiter getrieben. Die Books of Magic sind der Preis und alle versuchen sie zu bekommen, nur Madame Xanadu, die gesehen hat was passiert wenn John Constantine die Bücher besitzt, versucht eine bessere Lösung zu finden.
Man teased hier viele Dinge an die man zum Einen aus alten Heften noch kennt, so sind die Books of Magic ein älteres Konzept das vorher bei Vertigo beheimated war. Zum Anderen gibt es nette Verweise auf andere Serien aus den New 52 indem man bestimmte Artefakte sieht die z.B. in Demon Knights vorkommen.
Artwork ist umwerfend, Zeichnungen und Colorierung arbeiten hervorragend zusammen. Aktuell die bessere Justice League.