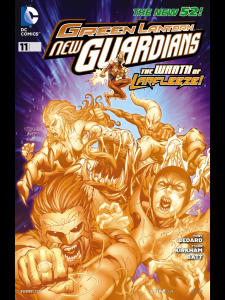 Autor: Tony Bedard
Zeichnung: Tyler Kirkham
Tusche: Matt Banning
Farbe: Nei Ruffino

Der Angriff auf Okaara beginnt um Larfleeze endlich für all das zur Rechenschaft zu ziehen, gleichzeitig setzt Invictus aber trotz seines Handels mit Kyle und den New Guardians seine Austauschaktion ganzer Planeten fort. Und dann kommt doch alles ganz anders (oder zumindest ein wenig). Viel Kampf mit einer interessanten Wendung am Ende, mal sehen ob das auch alles in "Rise of the Third Army" mit reinspielt.
Zeichnungen sind wieder gut, wobei ich hier und da die Colorierung nicht ganz so sauber ist was bei einem Green Lantern Comic sehr schnell auffällt und das Lesevergnügen stört.