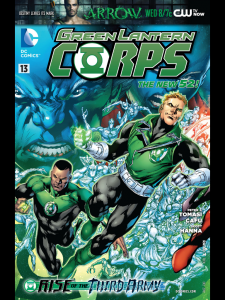 Autor: Peter J. Tomasi
Zeichnung: Cafu
Tusche: Scott Hanna
Farbe: Gabe Eltaeb

"Rise of the Third Army" startet durch und natürlich sind unsere Erden Laternen die Primärziele. Was die Guardians hier versuchen ist schon schauderlich. Wir gehen zwar alle mal davon aus das am Ende das gute sieht, aber dennoch wird hier sehr viel Spannung aufgebaut, da man sich nicht wirklich sicher sein kann das wirklich jeder überlebt. Chaos Verursachen und Ordnung zu bringen ist schon ganz schön krank wobei die vordergründige Motivation der blauen Zwerge durchaus nachvollziehbar ist. Ich bin gespannt welche Rolle Ganthet spielen wird, weil ich mir sicher bin das er eine besonderen Platz einnimmt.
Das man mit Cafu einen Gastzeichner gefunden hat der Pasarin nicht vermissen lässt ist schon etwas wert, weil das bei DC aktuell nicht immer der Fall ist.