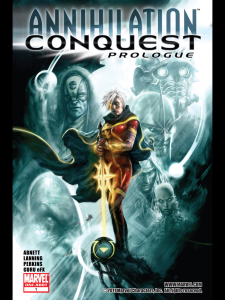 Autor: Dan Abnett, Andy Lanning
Zeichnung: Mike Perkins
Farbe: Guru eFx

Ein neuer Sale bei ComiXology und somit auch eine neue Versuchung der ich erlegen bin. Da ich mich sowieso ein wenig in den Guardians of the Galaxy einlesen wollte, und die aktuelle Inkarnation aus diesem Event hervorgegangen ist habe ich die Gunst der Stunde genutzt und mir mal das geholt was interessant klang.
Ich kannte mich im erweiterten Marvel Universum nur sehr begrenzt aus und doch hat der Prolog mich sofort mitgenommen und auch mitgerissen. Die Charaktere sind sehr interessant weil sie alle sehr verschieden sind und vor allem glaubwürdig. Man wird schnell mit ihrer Geschichte bekannt gemacht, ihren Kräften, Stärken, Schwächen und Eigenarten sowie der Motivation sich für andere einzusetzen. Im Fokus stehen Quasar, die Tochter des originalen Captain Marvel und Peter "Starlord" Quill der in den aktuellen Ausgaben von Avengers Assemble der Anführer der Guardians of the Galaxy ist.
Auch die Bedrohung ist intelligent aufgebaut und man möchte nicht nur wissen wie es aus geht sondern auch wie es nun genau dazu kam. Wenn mir auch die einzelnen Fraktionen noch nicht so geläufig sind, so weiß ich doch wer Kree, Phalanx oder die Space Knights sind und somit stellt sich doch die Frage wie es soweit kommen konnte.
Die Zeichnungen sind sehr ansprechend, wenn auch gerade Quasar ab und an ein wenig zu sexy dargestellt wird, das ist aber schon auf dem Cover ersichtlich. Ansonsten ist es tolle Weltraumaction die ein Feeling von Star Wars hat, nur halt mit Marvel Charakteren und somit Verweisen zu bekannten Sachen.