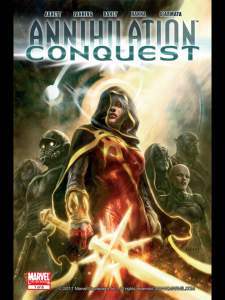 Autor: Dan Abnett, Andy Lanning
Zeichnung: Tom Raney
Tusche: Scott Hanna
Farbe: Frank D'Armata

Der Kampf gegen die Phalanx, welche Hala, die Heimatwelt der Kree eingenommen haben, geht nun so richtig los. Es werden die Handlungen aus den Miniserien aufgegriffen, doch ohne das man die gelesen haben muss. Annihilation: Conquest – Wraith hatte ich ausgelassen und habe trotzdem alles verstanden was wichtig war. Quasar, Adam Warlock, Star-Lord und seine Guardians of the Galaxy sowie Ronan, Wraith und Konsorten sind alle auf der Suche nach einem Weg die Phalanx zu besiegen, doch dann erfahren wir wer hinter allem steckt. Das ist aber erst die erste Wendung die und überrascht. Das praktische an den Weltraumabenteuern ist, dass die Wendungen wirklich unvorhergesehen sind und auch gerne mal Leute sterben die sehr sicher auch tot bleiben. Trotzdem findet das auch sehr eindeutig im Marvel Universum statt, nicht nur wegen den Rassen, sondern auch wegen Referenzen auf einzelne Personen bzw. Events.
Wie schon in den Miniserien sind die Charaktere sehr zugänglich. Man fühlt mit ihnen, man lacht mit ihnen und man trauert mit ihnen. Dan Abnett und Any Lanning sind in ihrem Element und das merkt man sehr gut. Das Event macht Lust auf mehr und die "alte" Guardians of the Galaxy Serie ist auf meiner Wunschliste weit nach oben gewandert.
Auch Tom Raney leistet tolle Arbeit. Er trifft genau den Punkt zwischen Sc-Fi und Superhelden die diese Serie so interessant macht. Quasar und Adam Warlock sind viel eher in Richtung Superhelden anzuordnen und die Guardians um Peter "Star-Lord" Quill wirken mehr wie ein Militäreinheit aus einer Space Opera. Einzig bei den Gesichtern trifft er nicht immer meinen Geschmack. Gerade Peter und Adam wirken ab und an etwas seltsam.