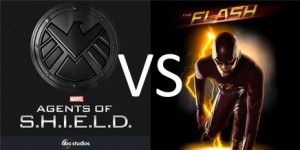 Ich habe ja das große Glück das meine Frau auch gerne TV Serien mit Superhelden schaut (solange sie nicht zu brutal ist). Neben alten Folgen Arrow über Netflix ist das Flash auf Pro 7 und auch Agents of S.H.I.E.L.D. auf iTunes im Original mit Untertiteln.
Und obwohl es schwierig ist sowohl den Untertiteln als auch der Handlung auf dem Bildschirm zu folgen sprach meine Frau neulich etwas aus das ich schon länger dachte, mich aber nicht traute zu sagen: "Jede noch so unbedeutende Kleinigkeit in Agents of S.H.I.E.L.D. macht 100 mal mehr Sinn als alles was in Flash passiert." Hierbei geht es nicht um Realismus (es geht um Superhelden, da ist Realismus egal) es geht um Konsistenz innerhalb des Unrealistischen. Bei Flash gibt es so viele McGuffins das einem Schlecht wird und das Verhalten der Figuren ist nie wirklich stimmig.
Es wirkt so als wäre bei Agents of S.H.I.E.L.D. nahezu alles schon lange geplant, was auch nicht so falsch sein kann, da die Serie ja mit den Kinofilmen immer mal wieder Berührungspunkte hat. Bei Flash hingegen scheint man vieles von Folge zu Folge zu planen und dann eben auch gerne mal was ad-hoc zu ändern.
Wir schauen zwar immer noch gerne Flash und es ist sicher keine schlechte Serie aber oft schauen wir und dann doch an, kratzen und am Kopf und fragen uns was das soll. Bei Agents of S.H.I.E.L.D. hingegen fragen wir uns höchstens wie das jetzt weiter gehen soll.