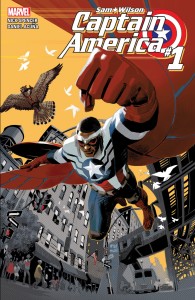 Schon seit einiger Zeit ist ja Sam Wilson – ehemals Falcon – der neue Captain America, da Steve Rogers das Super-Soldaten Serum entzogen wurde und er gealtert ist. Damals gab es schon einen kleinen Aufschrei, aber das begrenzte sich wirklich nur auf die ganz großen Rassisten. Nick Spencer geht hier jetzt noch einen Schritt weiter und lässt Cap sich politisch outen. Das Urkomische an der Sache ist nur, das Spencer gar nicht wirklich zeigt was Sam den nun genau zu welchen Themen gesagt hat, er zeigt einfach nur die Reaktionen darauf, die dann aber sehr schnell von der Wirklichkeit überholt wurden.
Im ersten Heft trifft Sam auf die "Sons of the Serpent" – eine Gruppe von Rassisten – die dabei sind illegale Einwanderer zu entführen und für Forschungszwecke zu missbrauchen. Und kurz nach erscheinen des Heftes hatte der konservative Nachrichtensender Fox News nichts besseres zu tun als sich darüber zu beschweren das Captain America sich nun gegen Konservative richtet.

Eine bessere Werbung für das Comic und für die Dummheit von Fox hätte man sich nicht wünschen können.
Aber das Comic braucht die Werbung eigentlich nicht. Die Geschichte ist an sich viel komplexer und auch interessanter als Fox tut und dann sind da auch noch die Zeichnungen von Daniel Acuna, der mir ja schon an den Avengers so gut gefallen hat.
Alles in Allem eine Serie die intelligent geschrieben und toll gezeichnet ist. Kommt also auch auf meine Leseliste.