Es ändert sich mal wieder einiges bei Tony Stark.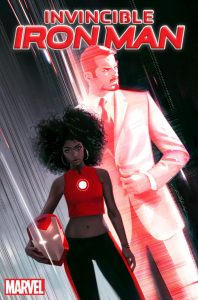 Autor: Brian Michael Bendis
Zeichner: Stefano Caselli, Mike Deodato und andere
Es geht momentan durch die US Medien und daher kann es auch Spiegel Online hat es schon aufgegriffen. Tony Stark wird nach der aktuellen Civil War II Storyline nicht mehr Iron Man sein (das Ende des Bürgerkriegs wird aber nicht verraten). Seinen Job übernimmt Riri Williams, eine 15 Jahre alte MIT Studentin die in ihrem Studentenwohnheim eine alte Iron Man Rüstung nachgebaut hat. Riri wurde von Brian Michael Bendis zusammen mit Mike Deodato für die aktuelle Invincible Iron Man Serie geschaffen und hatte ihren ersten Auftritt in der Nummer 9.
Berichte darüber gibt es hier:
Bendis hat auf Tumblr dazu noch eine Anmerkung die ich ebenfalls ganz wichtig finde:
i don't kn0w why but a lot of mainstream media coverage is not including the artist creator in their articles. not only on this story but on so many others.

no artist, no comic.

@mikedeodatojr is her co creator.
Wer mein Blog liest weis das ich von Deodato nicht sonderlich begeistert bin. Ich halte es dennoch für wichtig zu erwähnen das er maßgeblich an der Erschaffung der Figur beteiligt war und ich finde es sehr gut das Bendis das auch nochmal betont. Heutzutage wo durch Filme und TV Serien Charakter eine weiter Verbreitung erfahren und dann auch schnell Geld für die Schöpfer damit verbunden ist sollte auch klar sein wer diese Schöpfer sind!
Ansonsten bin ich zwiegespalten. Ich mag Tony und ich möchte mehr über ihn lesen und jede Veränderung beäuge ich zunächst vorsichtig, aber auch Matt Fraction hat es geschafft das ich eine Story über einen immer dümmer werdenden Tony geliebt habe und daher sehe ich dem ganzen erstmal sehr positiv entgegen.
Meine Vermutungen:

Und JA, ich finde es SEHR gut das die Avengers nicht mehr eine Bande aus weißen Männern sind.