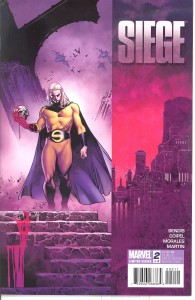 Wie bereits letzte Woche angedeutet habe ich auf die Comics diese Woche gespannt gewartet. Sowohl Siege #2 als auch Invincible Iron Man haben mich mit ihren Vorschauen sehr neugierig gemacht.
Insgesamt waren es diesmal folgende Hefte vom T3:
Conan the Cimmerian #18
JUSTICE SOCIETY OF AMERICA ANNUAL #2
INDOMITABLE IRON MAN BLACK AND WHITE # 1
SIEGE: EMBEDDED # 2
INVINCIBLE IRON MAN # 23
SIEGE # 2
Conan the Cimmerian #18
Der letzte Teil der "Free Companions" und man bekommt nun mit warum Conan nicht mehr in Khoraja ist. Solide erzählt und okay gezeichnet. Kein Höhepunkt, aber Conan wird so dargestellt wie Howard ihn auch beschrieben hat. Seine Art zu führen stimmt mit vielen seiner Geschichten überein. Man kann gespannt sein wie es weiter geht und wie Conan schliesslich in dem Sumpf landet, bzw. dort wieder heraus kommt.
7/10
JUSTICE SOCIETY OF AMERICA ANNUAL #2
Der endgültige Bruch mit Magog (kein Spoiler, weil das vom Cover schon offensichtlich ist). Wie es erzählt wird ist zwar ganz nett, aber es bleibt ein schaler Beigeschmackt da die JSA doch recht einfach zu manipulieren war. Hier hätte ich mir gerade von Mr. Terrific und Alan Scott mehr erwartet.
7/10
INDOMITABLE IRON MAN BLACK AND WHITE # 1
Drei interessante Geschichten denen nur grafisch die Farbe fehlt. Die Frage wozu die NASA gebracht wird wenn es doch so viele Superhelden gibt die das was die NASA nur mit Mühe schafft täglich tun war interessant. Das Phänomen das Tony seine Multitasking Fähigkeit unter Beweis stellen muss, weil er gleichzeitig Kämpfen und Geschäfte abwickelt ist nicht neu, wurde hier aber trotzdem sehr interessant erzählt. Die letzte Geschichte war von Grundtenor eher traurig, mit einem Augenzwinkern am Ende.
8/10
SIEGE: EMBEDDED # 2
Diese Comic teilt sich auf zwischen den wirklich "embedded" Journalisten, die nur das berichten was Norman Osborn will und Ben Urich der die Wahrheit herausfinden will. Dabei sorgt Volstagg immer wieder für ein Lächeln, trotz der schlimmen Situation in der er manchmal ist.
7/10
INVINCIBLE IRON MAN # 23
Tony kommt so langsam "Zu Sinnen" in vollkommen anderer Art und Weise wie man es erwartet. Fraction nimmt uns mit auf ein Reboot seines Gehirns (und, ja ich weis das man das doppeldeutig verstehen kann). Sehr interessant zu lesen und ich frage mich wie das ganze ausgehen wird. Dazu kommen noch einige Handlungssträge die ich besser als Spoiler verstecke:

9/10
SIEGE # 2
Hierzu kann ich nichts schreiben ohne das es ein Spoiler wäre.

Alles in Allem ein Comic das die Handlung in genau dem richten Tempo weiter bringt und bis auf die eine, etwas zu brutal geratene Szene, kann man eigentlich nichts daran aussetzten.
9/10