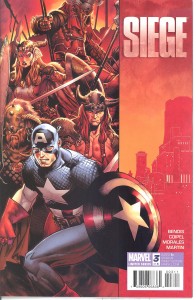 Wie versprochen hier schon die nächsten Reviews, auch dank einer exorbitant schnellen Lieferung vom T3.
Groo: The Hogs of Horder #4
GREEN LANTERN CORPS #46
DARK AVENGERS # 15
SIEGE: EMBEDDED # 3
SIEGE # 3
Groo: The Hogs of Horder #4
Wie immer sorgt Groo dafür das alles schief geht aber die restlichen Menschen in seiner Welt sind irgendwie das eigentliche Problem…okay nicht die Menschen an sich sondern nur diejenigen die etwas zu sagen haben, wie Könige, Bänker und Manager. Witzig und wie immer auch ein wenig als Lehrstunde gedacht.
7/10
GREEN LANTERN CORPS #46
Langsam wird das mit den Kämpfen gegen die Black Lanterns ermüdend. Der Angriff auf den Anti Monitor hat da nur wenig geholfen.
6/10
DARK AVENGERS # 15
Der Kampf mit Doom aus Siege: The Cabal wird hier aufgegriffen und ein erster Schritt zu Erklärung wer da Norman hilft erfolgt auch.
8/10
SIEGE: EMBEDDED # 3
Endlich geht es weniger um Vostagg und den eigentlichen Angriff auf Asgard, sondern wirklich um die Art und Weise wie die Medien ge- und missbraucht werden und welche Auswirkungen das auf die Medienmacher hat. Natürlich spielt auch die Flucht von Ben Urich eine Rolle aber die Aktion überwiegt nicht.
7/10
SIEGE # 3
Der Angriff auf Asgard geht in die nächste Runde und es passiert so viel das ich wieder mal die Spoiler Tags auspacken muss.
9/10