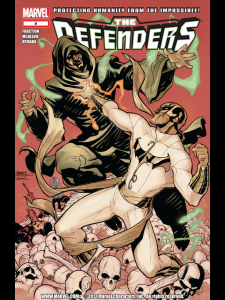 Autor: Matt Fraction
Zeichnung: Jamie McKelvie, Mike Norton
Farbe: Domo Aymara

The Universe will break. Shut the engines down. Everyone you love dies. Fight to save everything. Das waren die Sätze die man aus verschiedenen Silhouetten heraus lesen konnten bevor die Serie anfing. Langsam macht das eine oder Andere Sinn, zum Teil muss man auch noch rätseln. Doch was Fraction hier schreibt, die Interaktion der Charaktere, die Referenzen, die zum Teil total durchgeknallte Handlung macht richtig Spass.
Wenn man sich jetzt noch überlegt wie das ganze angefangen hat und was zwischenzeitlich schon passiert ist und man erst bei Ausgabe 8 ist fragt man sich schon was man bei anderen Serien falsch macht.
McKelvie's Zeichnungen sind sehr klar und sauber, was dazu beiträgt das die angefahrenen Sachen eher zur Geltung kommen. Sicher eine der besten Serien zur Zeit.