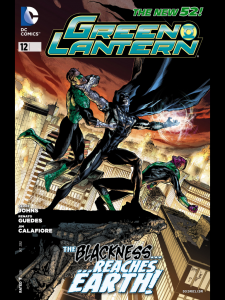 Autor: Geoff Johns
Zeichnung: Jim Calafiore, Renato Guedes
Farbe: Alex Sinclair

Wir gehen mit großen Schritten auf "Rise of the Third Army" zu, wobei der erste Stop das Green Lantern Annual sein wird. Hier wird erst nochmal viel von dem erklärt was in "Blackest Night" erzählt wurde, verbunden mit gutem, alten Zombie Gemetzel. Hinzu kommen die Guardians die sich sehr hinterhältig verhalten. Wie oftmals ist die letzte Seite sehr eindrucksvoll, nicht vom Artwork aber vom Inhalt. Allerdings weiss man aufgrund diverser Ankündigungen dann auch was im Annual wohl passieren wird.
Jim Calafiore und Renato Guedes machen ihre Sache gut und es ist auch kein großes Problem. Guedes Hal sieht auf der ersten Seite aber dann doch Ryan Reynolds sehr ähnlich.