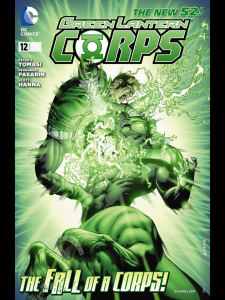 Autor: Peter J. Tomasi
Zeichnung: Fernando Pasarin
Tusche: Scott Hanna
Farbe: Gabe Eltaeb

Der Aufstand der Green Lanterns gegen die Alpha-Lanterns ist in vollem Gange und die Guardians greifen nicht ein. Alles läuft klar auf die "Rise of the Third Army" hin, das große Event was jetzt schon seit Monaten angekündigt wird. Dieser interne Kampf in den Rängen der Green und Alpha Lanterns ist zwar recht plausibel geschrieben, aber was doch seltsam ist das keinen auffällt das die Guardians nicht eingreifen. Trotz all diesen Schwächen freue ich mich schon auf das Crossover, hoffe aber das ich ohne die "Red Lanterns" auskommen werde.
Pasarin hat sich mittlerweile als Green Lantern Corps Zeichner etabliert. Klare Linien und gerade Guy und Johns Gesichter gefallen mit aufgrund des guten Wiedererkennungswertes sowie die dargestellten Emotionen gut. Die Zusammenarbeit mti dem Coloristen ist ebenfalls gut gelungen, was bei einem GL sehr wichtig ist.