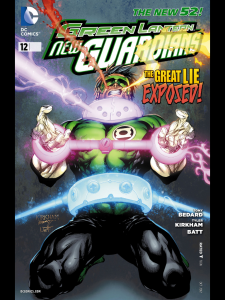 Autor: Tony Bedard
Zeichnung: Tyler Kirkham
Tusche: Matt Banning
Farbe: Nei Ruffino, Wes Hartman

Der Kampf gegen Invictus erreicht seinen Höhepunkt und endlich arbeiten auch alle Lanterns zusammen. Interessanter ist auch hier wer mit wem warum zusammenarbeitet und wer wen warum verrät. Zudem werden für die Zukunft einige Grundsteine gelegt und auch hier alles für "Rise of the Third Army" vorbereitet. Man merkt hier aber auch das diese Serie so konzipiert ist das sie auch alleine funktioniert.
Tyler Kirkham zeigt das er jeden Monat solide Arbeit abliefern kann. Nichts was irgendwie herausragen würde aber durchaus solide Arbeit mit einigen Ecken und kanten die gerade Kyle ein eher erwachseneres Aussehen verleihen.