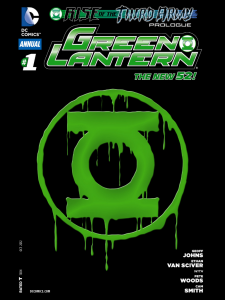 Autor: Geoff Johns
Zeichnung: Ethan Van Sciver
Farbe: Hi-Fi

Die Geschichte mit Black Hand findet hier nicht etwa ihren Abschluss sondern geht eher nahtlos in Rise of the Third Army über. Hier kann Johns seine Stärken zeigen: seine langjährige Planung und Geschichten die sich über viele Hefte hinstrecken. Die Idee hinter der dritten Armee (nach den Manhuntern und den Green Lantern) ist nicht neu und nicht innovativ, wie das ganze umgesetzt ist aber sehr zugänglich und trotzdem spannend. Das Johns das alles mit dem verknüpft was er schon seit langem erzählt, aber hier und da noch ein paar neue Elemente mit hinein wirft ist für mich, als mehrjährigen Green Lantern Fan und Leser natürlich klasse, doch jemand der vielleicht mit den New 52 erst einsteigt dürfte doch vieles verwirren.
Van Sciver ist mal wieder meisterhaft, viele Details, viel Emotionen und viel Action.