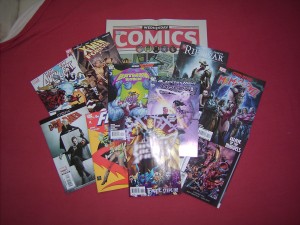 Letzter Tag meines Urlaubs und ich hab alle Comics gelesen bekommen (naja, bis auf den Starman Omnibus den ich zum Geburtstag bekommen habe. Diesmal waren wir auf dem Weg in den Zoo selbst im T3 gewesen und haben die Comics abgeholt. War nett die netten Leute dort auch mal wieder persönlich zu sehen.
An Comics waren dabei:
RIFTWAR # 3
WEDNESDAY COMICS #8
X-MEN FOREVER # 6
NEW AVENGERS # 56
MS. MARVEL # 44
DARK X-MEN: THE BEGINNING # 3
DARK AVENGERS # 8
Batman & Robin #3
THE FLASH: REBIRTH #4 (OF 5)
GREEN LANTERN #45
JUSTICE SOCIETY OF AMERICA #30
Wie gewohnt ein kurzer Abriss über den Inhalt und meine Meinung zu den Comics im vollständigen Artikel.